It was one of the evenings, I didn't want to end. It began with the appearence of The Copper Bottom Band, consisting of 7 people (2 singers and 5 musicians), on stage at the Laeiszhalle in Hamburg. Followed by Hugh Laurie, who came on stage with a surprisingly healthy leg and a missing walking stick. Dr. House fans will know, what the heck I'm talking about.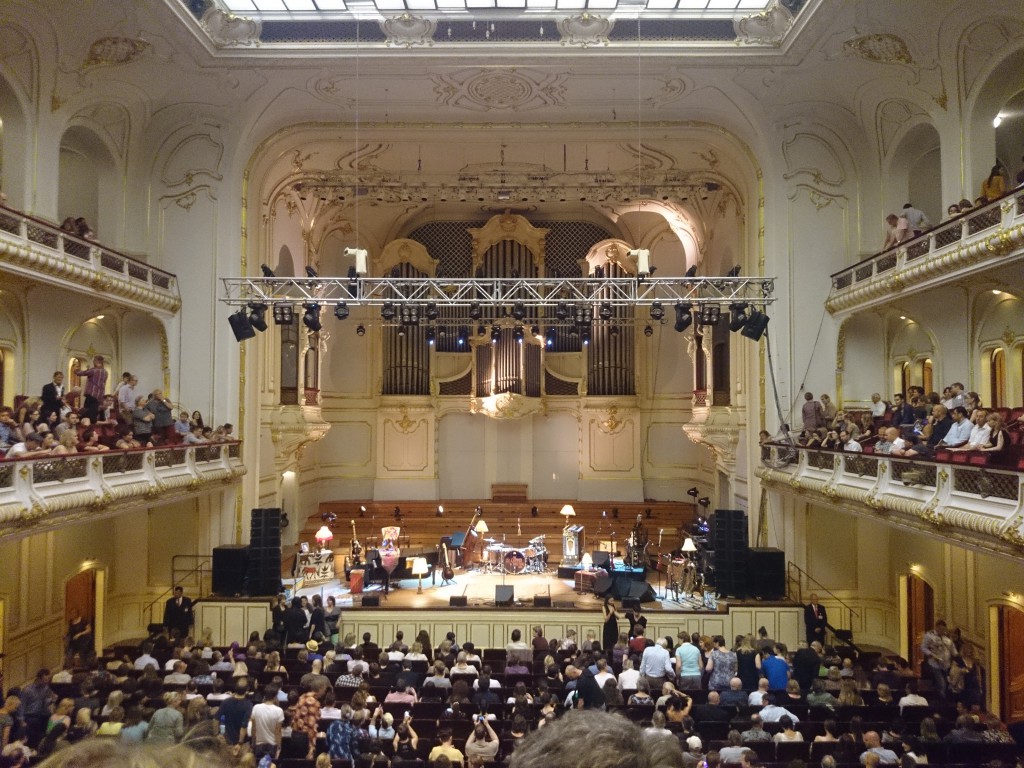 He came with a shot of good old apple juice and drank it before even starting to talk. Anyhow that was what he told us it was. After loud applause for all of the musicians on stage, Hugh welcomed us with warm words and congratulations about winning the world cup. He even joked about loosing his passport for that comment and asked, if we had sent flowers to brazil. How funny was that!? The crowd was giddy with pleasure.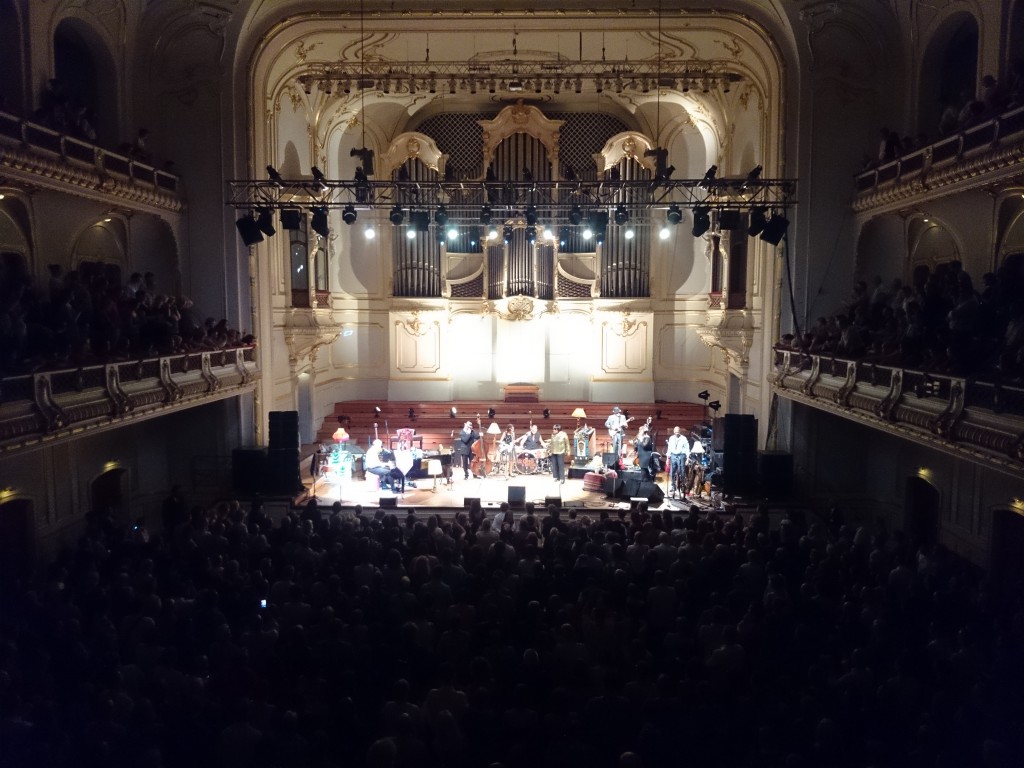 The whole evening was very entertaining. It was a mixture between him singing with the whole band, letting the girls sing duets (with him playing piano and singing in the background), him being alone on stage and singing by himself and performing only with the men around an old microphone. Trough the evening every musician had at least one solo, so everyone could show off their skills with their instruments. Sometimes they all were jamming around, as if they would just practice in a garage and nowbody was watching/listening.
Hugh lay down on the ground, when the guitar player had his solo. He fell down on his knees in front of one of the singers in appreciation of her voice. You could tell, that he was an actor, but he was so charming and nice, that it didn't seem staged, but totally honest. He showed off some really sick dance moves, jumped up and down on stage, did some weired kicks with his legs, played with the microphone and had a little dance with the other singer. The tango they performed together was amazing. Both singers of the band have really good voices and it was a pleasure, listening to them.
They played one good song after another. I couldn't sing along with all of them, but several of them I knew from the times when I learnd how to walz and dance at my old dancing school. Memeories were brought back and I really wanted to start dancing immediately!
Between the songs, Hugh Laurie told funny stories about the songs and experiences from the tour. Nearly every song he intruduced with "the next song is an old song".. he just really likes old songs and they played them all with passion. He has a mysterious and smoky voice which catches you after seconds and he is an unexpeced good piano player. At least I didn't expect that.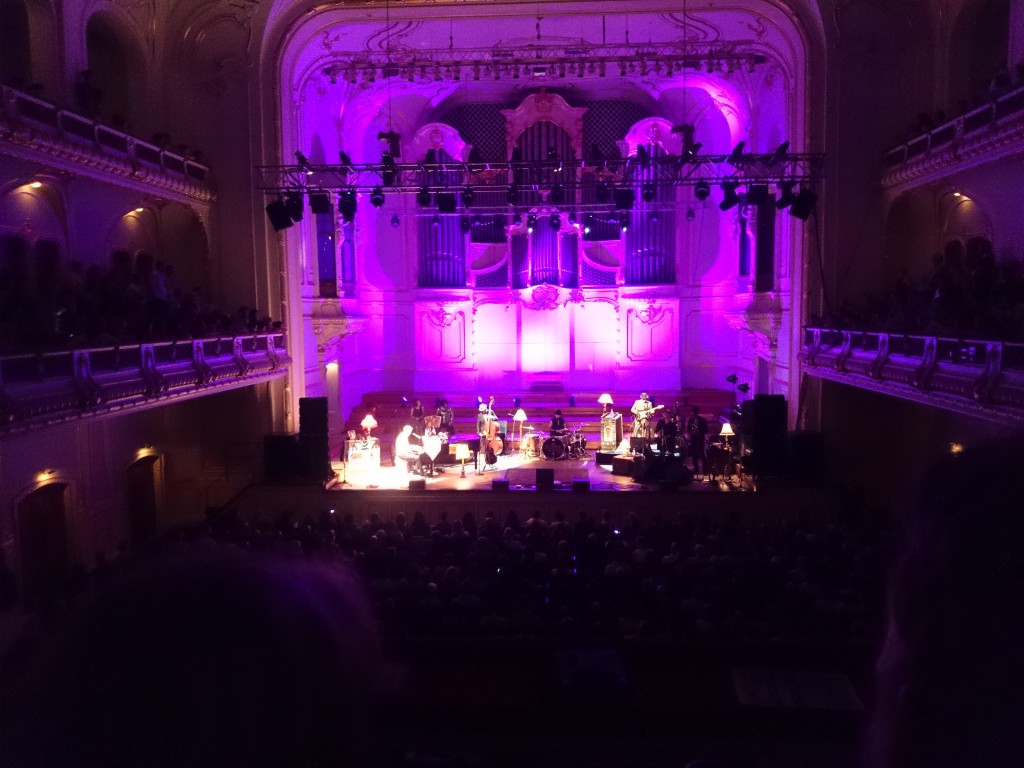 After a nearly 2 hour long show, Hugh and the band left the stage. The crowd was clapping enthusiastic and brought the musicians back to stage for some bonus songs. They played 2 I guess and then left the stage again, but the crowd was not willing to go home and clapped their hands as much as possible. Hugh Laurie and The Copper Bottom Band came back a second time, every one in the audience was standing up now and danced to the very last song. It was awesome! I didn't want it to end. The music, the vibes, everything was amayzing. It was hot as hell, but nobody cared and danced and sang along the last song.
Only minutes after leaving the Laeiszhalle I asked Olli, when Hugh would come back to Hamburg again. I totally have to go to one of his concerts again. Thanks for taking me, Olli, it was a wonderful evening!